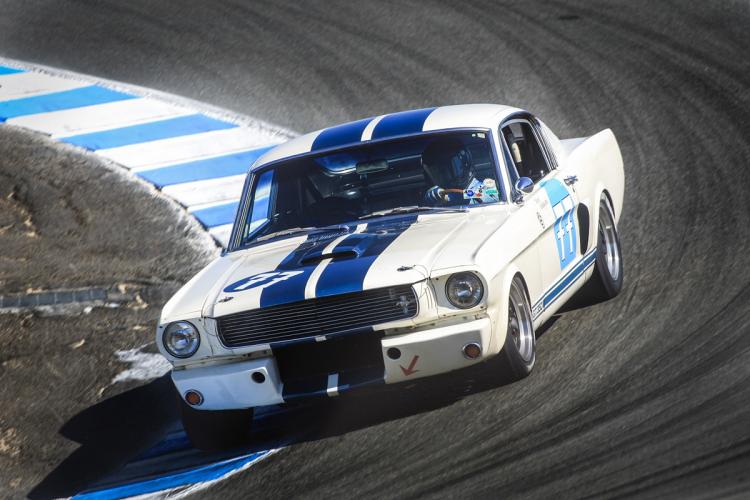 The Rolex Monterey Motorsports Reunion will celebrate the 50th anniversary of one of the most recognizable road racing cars of the '60s – the Shelby GT350 Mustang – as the 2015 featured marque August 13-16, 2015 at Mazda Raceway Laguna Seca.
The Shelby GT350 Mustang came onto the scene just one year after the Ford Mustang debuted. Ford Motor Company, already having success with Carroll Shelby in the Cobra program, enlisted Shelby to make the new Mustang competitive. And together they did, winning three consecutive SCCA national championships in its maiden years.
"The immediate success of the Shelby GT350 helped catapult the entire Mustang program onto the worldwide stage through its pure performance and reliability," said Gill Campbell, CEO/general manager of Mazda Raceway Laguna Seca. "We're thrilled to honor such an iconic American racing brand at the Rolex Monterey Motorsports Reunion. We are also adding a special 1965-1972 Shelby GT350 Mustang race group to the schedule as a way to further highlight the marque."
The Ford Motor Company is supporting the effort by designing a paddock display to showcase the history of the marque, its racing successes and the cars that made it famous.
"We couldn't be more excited to be able to share one of the most iconic performance Mustang nameplates – the Shelby GT350 Mustang – with all of the Shelby enthusiasts and race fans at next year's Rolex Monterey Motorsports Reunion," said Jim Farley, Ford executive vice president of Global Marketing, Sales and Service. "The new GT350 is a true testament to its heritage and builds on Carroll Shelby's commitment to performance and racing, and we look forward to celebrating the car's 50th anniversary and marking it with great racing next summer."
The Rolex Monterey Motorsports Reunion is one of the world's premier historic racing events and a centerpiece of the Monterey Classic Car Week. A total of 550 historically- and period-correct cars are accepted to compete in 15 different race groups. For many, it is a motorsports museum springing to life, as authentic cars from as far back as the pre-war era rev up and tackle the challenging circuit in gentlemanly races.
Tickets to the Rolex Monterey Motorsports Reunion go on sale December 3 and include a variety of options, from single day tickets to multiple-day and hospitality packages.