NICK GALANTE DEFENDS HIS "HOME TURF"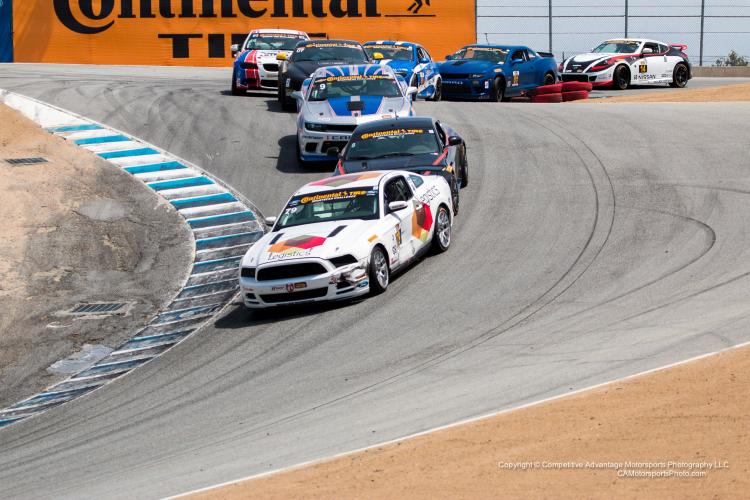 MONTEREY, Calif., April 28, 2015 — Among the field of more than 100 drivers competing in this weekend's Continental Tire Monterey Grand Prix, powered by Mazda, one in particular hopes to capitalize on his home field advantage. Nick Galante of the No. 57 Racers Edge Motorsports Mustang Boss 302R returns to his Monterey roots in his chase for victory.
Galante races in the GS class of the IMSA Continental Tire Sports Car Challenge Series, a highly competitive support race to the TUDOR United SportsCar Championship series that is also competing May 1-3 at Mazda Raceway Laguna Seca. This is the first race on the 2015 season calendar for the iconic race circuit and Monterey County's largest entertainment and sporting venue.
"It's so nice to be able to race here in front of a home crowd," said Galante. "I hold this track and this area so close to my heart. I remember my first time coming here in 1999 and experiencing this amazing track—I will never forget it. Being where I am now makes me look back when this was all just a dream. Life is really what you make it. Go for it."
Born and raised in Greenfield, Mass., Galante found himself with a broken back after a snowboarding incident in 1998. Not knowing how his injury would heal, he quickly learned the value of not taking life for granted. He told himself that if his injury did heal that he would commit to a true, meaningful goal in his life. It was at this time his racing and driving interest started to take off.
Luck would have it that his injury did heal. Galante quickly began taking the steps necessary to make his racing dreams come true. An avid golfer since the age of two, he thought the logical move was to Monterey, where Mazda Raceway Laguna Seca and Pebble Beach Golf Links were close neighbors. Just a short year after his injury, Galante was there.
Diving right in, he immersed himself with the first steps of learning the art of driving and racing. His first taste was stopping at Mazda Raceway Laguna Seca on his way home from caddying at Pebble Beach. He kept a helmet in his car and would look for drivers willing to let him ride along during their private test days. Knowing that the passenger seat wasn't enough for him, he started participating in track days at Mazda Raceway, finally getting to power down the famed corkscrew himself. He also started autocrossing and karting at the airport in Marina under some guidance from local racer and friend, Jonathan Bomarito.
After completing a three-day formula car racing school in 2006, Galante finally acquired his first racing license. A year later and with a sponsor behind him (COPi Companies), he found himself competing in the Jim Russell Formula Mazda Championship. Despite the steep learning curve and competing against many racers who had been at it since they were kids, he finished 10th out of the 96 racers that season. Galante made the jump to Formula 3 cars the following year and would go on to win the 2008, 2009 and 2010 Simraceway F3 masters championship titles. He has been competing in the IMSA Continental Tire Sports Car Challenge Series – a goal he set his mind to after a successful test with TRG in 2010 – since 2011.
For a complete schedule and ticket information, visit MazdaRaceway.com or call 831-242-8200.