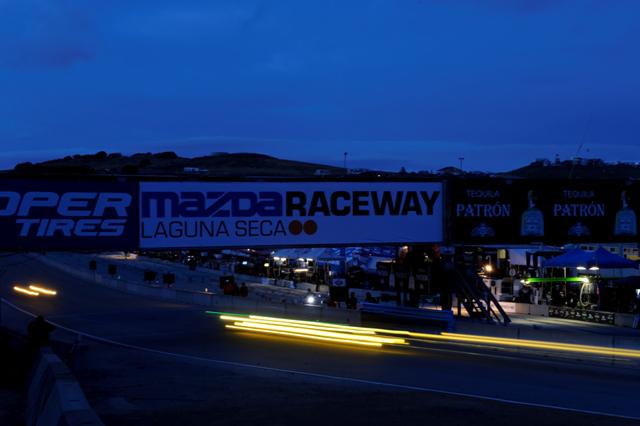 We're only days away before some of the world's premier athlete drivers arrive into Monterey for the six hour endurance race – the ModSpace American Le Mans Monterey, presented by Patron. As the season winds down, the race for overall top honors remains strong. This is Round eight of a nine race season.
The 36-car grid is the Series' largest at the track since 2000. In addition to the already stellar full-season field for the six-hour enduro, the Monterey round will feature the return of two high-profile entries. The first is Aston Martin Racing with a Lola-Aston Martin coupe for Adrian Fernandez and Harold Primat. They finished second in their most recent ALMS race at Long Beach in 2010 in the same car, and the factory entry will join Muscle Milk Aston Martin Racing's Lola-Aston Martin on the grid.
Porsche's ground-breaking 911 GT3 R Hybrid also will return to the ALMS at Mazda Raceway Laguna Seca. Factory drivers Romain Dumas and Richard Lietz will share the Porsche, which has seen numerous updates since the car raced last in the ALMS at Petit Le Mans, 2010. Among them is a lighter motor, a reconfigured distribution system for stored energy that is transferred to a more efficient flywheel. Moreover, drivers can manually use the stored energy with a boost-paddle on the steering wheel for overtaking. The car will run unclassified.
The championship chases for each of the four classes are likely to become much clearer at the end of six hours. Driver, team and tire manufacturer championships all remain in play heading to Monterey.
Be sure to catch all the action from around Mazda Raceway Laguna Seca as drivers and teams give it all they have to capture the checkered flag and rise in the points standings. There's also plenty to see and do for entire families, so purchase tickets now, then sit back and enjoy the on- and off-track action.