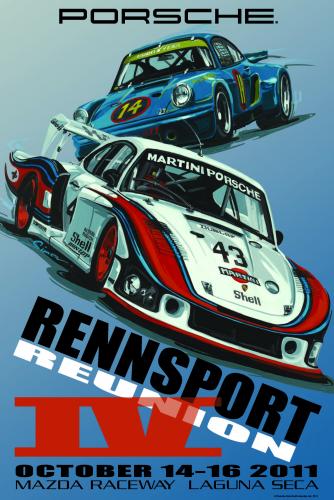 Porsche Rennsport Reunion IV will be the world's greatest gathering of Porsche race cars and the drivers that drove them to victory, held at Mazda Raceway Laguna Seca October 14-16, 2011.
The Porsche Club of America is honored to assist Porsche Cars North America in the Porsche Rennsport Reunion IV with numerous activities: Enhancing the Rennsport Reunion Cup race, Michelin Tire Company comes on board as the spec tire manufacturer for that thrilling contest.
PCA is looking for exceptional examples of Porsche 911 production models for the history of the Porsche 911 display at Mazda Raceway Laguna Seca during the event. It will be a display representing the 911 model throughout its generational life. Please contact Tom Provasi for information and registration at tprovasi@netgate.net or 408-947-0980.
PCA members will be invited to use the welcoming PCA Hospitality and Membership Center that will be open throughout the Oct. 14-16 event weekend.
To park safely in one of the Porsche Model-Specific Parking Corrals (a corral parking ticket will be required— please visit www.mazdaraceway.com for ticket information), and to enjoy Parade laps of the track with their Porsches.
PCA volunteer workers are needed to assist with club activities at the Rennsport Reunion IV. If you are interested in supporting this memorable event, please contact Sharon Neidel with the PCA Volunteer Pool at sharonneidel@yahoo.com or 650-508-1308.There will be a very special event memento for the volunteers.
Porsche Cars North America (PCNA) and Porsche Race Car Classic (PRCC) have announced that the organizations have coordinated their event activities to allow all Porsche enthusiasts to take full advantage of what will be an unprecedented celebration of Porsche's rich motorsport history around the Monterey Peninsula over the third weekend in October. The early run groups (1 and 2) of Porsche Rennsport Reunion IV will conclude their racing activities at Mazda Raceway Laguna Seca on Saturday, October 15, so that they may fully participate in the PRCC activities at Quail Lodge on the following day upon invitation.
The Porsche Race Car Classic, a gathering of significant race cars from Porsche's break-out era of 1950-1965, will take place on Sunday, October 16, at the Quail Lodge in Carmel. Event producer Steve Heinrichs is pulling out all the stops to bring rarely-seen race cars out of private collections and museums and into the light of day on the grassy fields at Quail. While the cars are by invitation, the event itself is open to the general public. For more information on the Porsche Race Car Classic or to purchase tickets visit www.porscheracecarclassic.com or contact Mr. Heinrichs at 775-691-2217.
Additional details of the Porsche Rennsport Reunion IV are published on the Porsche website: www.porsche.com/usa/rennsport-reunion-iv/. For additional information and event tickets, please visit the Mazda Raceway Laguna Seca website at www.mazdaraceway.com or call 800-327-7322.
Porsche enthusiasts can stay abreast of Porsche Rennsport Reunion IV news in PCA's Panorama  Magazine at www.pca.org and in E-Brake News.