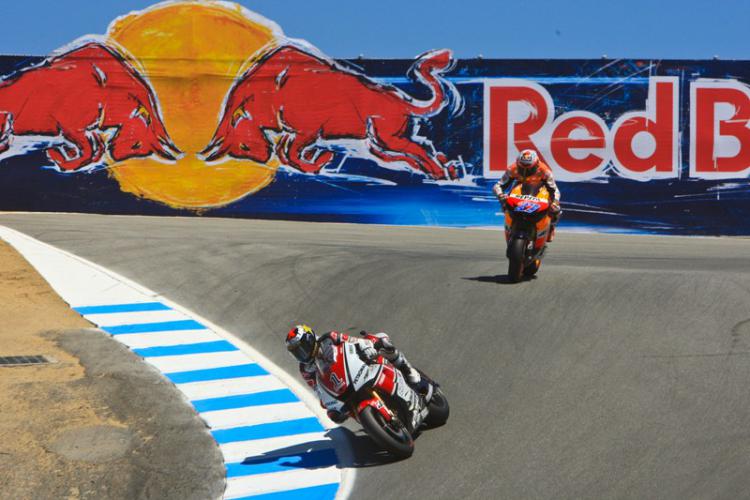 It was a spectacular weekend for the Red Bull United States Grand Prix as 136,285 fans filled Mazda Raceway Laguna Seca to see Repsol Honda Team rider Casey Stoner (Aus.) strengthen his lead over Yamaha Factory Racing Jorge Lorenzo (Spain) in the World Championship standings.
Defending World Champion Lorenzo put in a valiant effort after a dramatic high side crash in Saturday morning practice that left him bruised and battered, yet unwavering in his title defense. But Stoner was too much for the Spaniard as he overtook Lorenzo in the final laps to stretch his lead over Lorenzo to 20 points with eight races remaining.
Riders praised Mazda Raceway Laguna Seca and appreciated the large and energetic fan turnout. After the race and press conference, many riders signed autographs and posed for pictures with grinning fans. For the fans in the paddock, throughout the Yamaha Marketplace, packed grandstands and hillsides, the event was a highlight on their calendar, and one that will be repeated for years to come.
Everyone associated with Mazda Raceway Laguna Seca wants to thank the riders, teams and Dorna for bringing the MotoGP World Championship to Mazda Raceway Laguna Seca. See you next year!