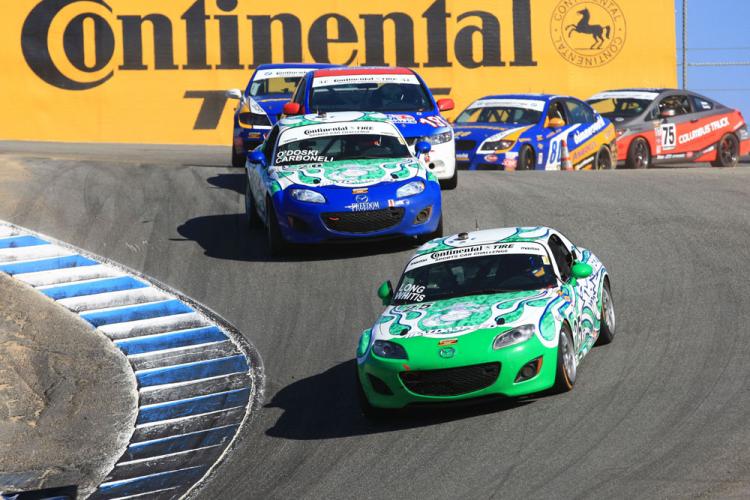 With a merger of the two finest in sports car racing series on tap for 2014, their separate return to Mazda Raceway Laguna Seca next year will surely be a treat for race fans. The American Le Mans Series will compete May 9-11 and GRAND-AM Road Racing will race September 7 and 8 with two competitive series, Rolex Sports Car Series and Continental Tire Challenge, within the Continental Tire Sports Car Festival, powered by Mazda event.
"We are happy to be a part of the final season as individual series for these two outstanding organizations," says Gill Campbell, Mazda Raceway Laguna Seca CEO/general manager. "We expect to see some very competitive racing as they each strive to show what makes their cars and drivers the very best in sports car racing."
Mazda Raceway Laguna Seca is one of four race tracks to have hosted an American Le Mans Series event in each of its seasons. Featuring multiple classes of high-tech sports cars competing together, the American Le Mans Series sees constant passing and on-track battles throughout each race. The four hour race on Saturday May 11 takes competitors from daylight, to dusk, pushing drivers' and crews' mental and physical abilities.
In GRAND-AM Road Racing, the Rolex Sports Car Series features Daytona Prototypes and production-based GT cars running simultaneously. The Daytona Prototype (DP) category has revolutionized sports car racing with ample battles at the front of the field and close finishes in practically every race. Like the DP class that has redefined prototype racing, the GT class has done the same for high-performance, production-based sports car racing.
Like the Rolex Series, the Continental Tire Sports Car Challenge races two classes at the same time: Grand Sport (GS) and Street Tuner (ST) and features sports cars manufactured from around the world, straight from the showroom, racing with only minor safety modifications.
The 2013 schedule for Mazda Raceway Laguna Seca is:
May 9-11  American Le Mans Monterey
July 19-21  Red Bull U.S. Grand Prix featuring the MotoGP World Championship
August 16-18  Rolex Monterey Motorsports Reunion, featuring Chevrolet Corvette
September 7-8 Continental Tire Sports Car Races, powered by Mazda
September 27-29 FIM Superbike World Championship, Monterey Round
Advance ticket sales begin at 8 a.m. Pacific Time on November 7 for the Red Bull U.S. Grand Prix, December 5 at 8 a.m. Pacific Time for World Superbike and all other events at 8 a.m. Pacific Time on December 12. Tickets will also be available online at MazdaRaceway.com on these dates or by calling the ticket office at 800.327.7322. Premier/Reserved camping and Hospitality Suites may be booked by phone only.