Exhibitors
Showcase your company's products or services to thousands of enthusiastic, qualified buyers in the sought-after Northern California market by selling or displaying at Mazda Raceway Laguna Seca, Yamaha Marketplace Exhibitor and Expo areas.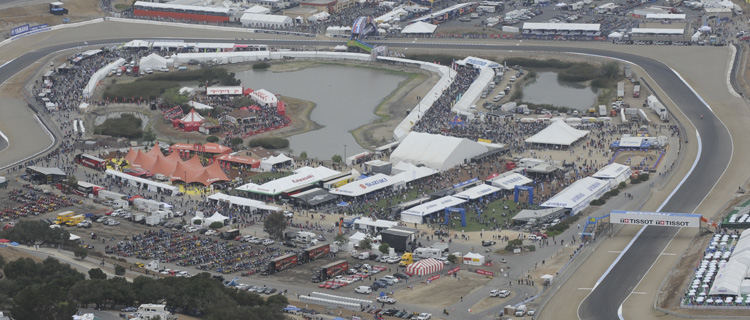 The Yamaha Marketplace Expo is a display only area on the infield of Mazda Raceway Laguna Seca race circuit between Turns 2 and 5. Adjacent to the shuttle drop-off point, the Yamaha Marketplace Expo is many Fan's first and last point of contact with the weekend's activities.The Yamaha Marketplace Exhibitor area is in a major pedestrian traffic corridor. Foot traffic between the Paddock and Turn 5, bus stop-off point and camping area will travel through the Yamaha Marketplace Exhibitor and Expo areas.
The Yamaha Marketplace features the latest in motorsports, lifestyle and consumer goods and services. Yamaha Marketplace offers an enticing selection of motorsport-themed retail products and services plus an outstanding array of food to satisfy the hungry race fan. All Mazda Raceway Laguna Seca events draw a large audience from national to international delivering a tremendous reach into these coveted markets. This audience is more educated, wealthier and spends more per capita than the vast majority of North American motorsport racing venues. It is a perfect opportunity to meet the enthusiastic race fan, face to face, to develop and enhance product awareness.
For More information please contact Jeanie Sumners at 831-242-8204 or email to: Jeanie@MazdaRaceway.com
Vendor Agreements
American Le Mans Series Monterey Presented by Patron
Red Bull U.S. Grand Prix Featuring the MotoGP World Championship