Treasurer & Director – Vehicle Control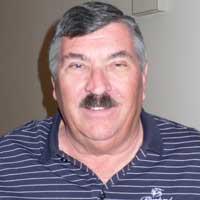 Bio: Owned and operated a Computer Business for 20 Years, now operate two homes for handicapped children.
Hometown: Fresno, Calif.
College: Fresno State College
Favorite Racing Series: I enjoy the Rolex Monterey Motorsports Reunion the most, with all the old cars and drivers from the past. Maybe it is because I grew up with these drivers and can identify with them.
Favorite Sport Activities: I love all sports, especially golf and football.
First Time You Realized You Like Racing: When I came as a guest several years ago to Mazda Raceway Laguna Seca and I enjoyed it very much. This was my first visit to the track and had not been a race fan since I was a teenager.
Favorite Book: Bible
Favorite movie: Forest Gump
Favorite music: I listen to Country Western music the most.
Hobbies: Traveling, playing golf.
Something no one else knows about you: I have been married almost 30 years, however, this is my third attempt.