Historic Cars Celebrate Jaguar History August 19-21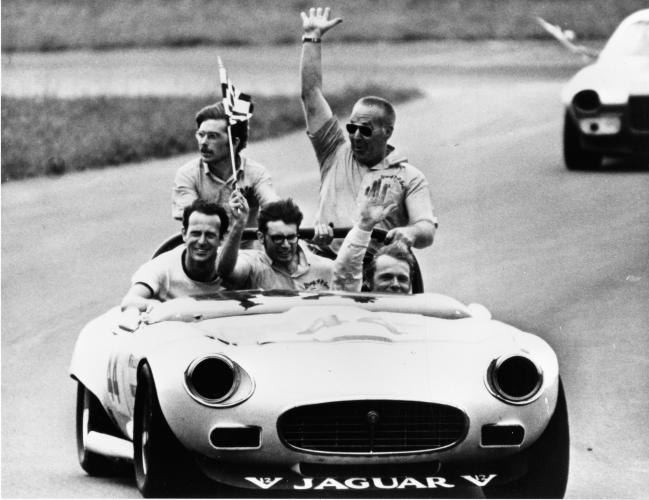 Eleven years before Phil Hill became the first American Formula One World Champion, driving for Scuderia Ferrari in 1961, he was honing his considerable talents in sports car races. One of 23-year-old Hill's first prominent wins occurred in a Jaguar XK120 in 1950 at the inaugural Pebble Beach Road Races' narrow 2.1-mile tree-lined course.
This winning XK120 helped Jaguar— and Hill—begin the ascent to many winning years for the Leaping Cat of Coventry. Next month, Jaguar Cars is celebrating its illustrious history, and the 50th anniversary of the iconic E-Type, at the Rolex Monterey Motorsport Reunion, August 19-21 at Mazda Raceway Laguna Seca, as the featured marque of the historic race weekend.
Jaguar is adding to the robust mixture of more than 550 historic racing cars with a special invitation-only selection of Jaguars in its elaborate Heritage Display that celebrate the marque's significant achievements. Among the early confirmed cars are:
1950 Jaguar XKS120 – This is the car that Hill drove to victory in the nearby Del Monte Forest of Pebble Beach.
1951 Jaguar C-Type – With Hill again at the wheel, the North American racing debut of this C-Type garnered accolades and the victory at Elkhart Lake. Only 53 C-Types were constructed.
1974 Jaguar E-Type – Winner of a string of seven races, Bob Tullius' Group 44 winner of the 1975 SCCA B Production Car Championship.
1978 Jaguar XJS – Three years later in 1978, Tullius and his Group 44 team returned to championship form, this time in a specially-prepared XJS to wrest the 1978 Trans-Am Championship Category 1 title from defending champion Porsche.
1988 Jaguar XJR-9 – The team of Andy Wallace, Johnny Dumfries and Jan Lammers entered this Silk Cut Jaguar XJR-9 in the 1988 24 Hours of Le Mans, winning in spectacular fashion. This was the sixth overall 24 Hours of Le Mans win for Jaguar, which held off the formidable Porsche 962 team ending Porsche's seven year reign.
For 37 years, motoring enthusiasts have made pilgrimage to the Monterey Peninsula for the Monterey Classic Car Week, which is anchored by the Rolex Monterey Motorsports Reunion and Pebble Beach Concours d'Elegance.
Visitors to Mazda Raceway Laguna Seca will discover the race paddock to be bustling with the sights, sounds and constant car movement that few fans can enjoy at professional races. Race groups range from pre-1940 sports and touring race cars to the thunderous historic Trans-Am and Can-Am cars of the '60s and early '70s. The most modern era cars will be seen in Group 6B's '81-'89 FIA Manufacturers Championship cars and IMSA GTP.
Complementing the paddock is the Yamaha Marketplace that features fan friendly activities, displays, automobilia and hard-to-find books. A number of dining options are also available.