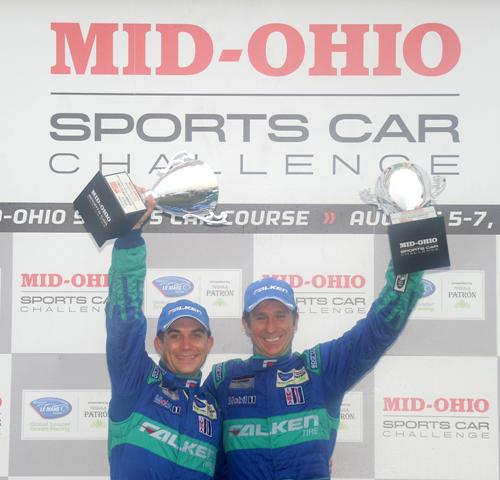 The smile he so easily wears belies the competitive spirit of Bryan Sellers. Below the surface of the Braselton, GA-driver simmers a passion forged through a lifetime of racing. Once the trademark orange and black helmet goes on and the once easily approachable driver slides behind the wheel of the No. 17 Team Falken Tire Porsche 911 GT3 RSR, one of sports car racing's true "nice guys" makes the switch to one of its fiercest competitors. He is a Dr. Jekyll in the Mazda Raceway Laguna Seca paddock and a Mr. Hyde on the track. The ModSpace American Le Mans Monterey Presented by Patrón is six hours of racing for Sellers but it is backed by a lifetime of drive.
Sellers' path to the American Le Mans Series presented by Tequila Patrón has not been one of ease or entitlement. Through his performance and sheer determination, Sellers has fought and earned his way to the pinnacle of the sport and a chance to capture the American Le Mans Monterey GT class trophy. Like many hopeful drivers, Sellers' career took its formative steps in karting. From its jumping-off spot in the appearance of a kart under the tree on his ninth Christmas, the Ohio-native has risen to take his place as a factory driver for one of the world's premier tire manufacturers at the apex of international motorsports.
As it should be, success was the force pushing Sellers' career in the early years. His first automobile championship came at 17-years old when he captured an impressive 15 wins driving in the Skip Barber Mid-West division. Simultaneously, he won the 1999 Skip Barber Karting Scholarship. 2002 was Sellers' introduction to the world stage of motorsport and he garnered impressive headlines. He added Champion of the USF2000 National Series to his growing resume and was tagged to represent Team USA in the internationally renowned Formula Ford Championship in New Zealand. Proving America's place in the elite of drivers, Sellers scored two wins and five podiums in six races only narrowly missing the title. The performance would earn him test rides in both the Newman-Hass and Dale Coyne ChampCars. More attention followed when he joined Lynx Racing as a factory driver in the then thriving Toyota Atlantic Championship collecting three podium-finishes in 2004.
2005 was the watershed year for Sellers, who is married to TV talent Jamie Howe Sellers. With opportunities waning in open wheel racing for drivers without substantial funding, he followed his skill set to professional sports car racing. The years of road racing success made Sellers a natural in the heavier sports cars which demand not only quickness but maturity to race up to 24 hours. He competed for the first time with a roof over his head in a Grand-Am event at Homestead, FL capturing the pole position in a Porsche 911 GT3 Cup entry he had never driven before. Panoz Motor Sports then tapped the open wheel champion to race, as a factory driver, in the Panoz Esperante GT entry in the ALMS. It was then that he had his first taste of endurance racing here in the United States and at the 24 Hours of Le Mans.
Stints as a factory "ringer" for PTG BMW and the PTG Panoz programs fine-tuned Sellers' sports car racing, coaching and tire development skills. He would later earn his first 24-hour race podium at Daytona in 2008 and added a second-place in GT class in that event this year… all driving Porsches.
Team Falken Tire hired Sellers to join Porsche factory driver Wolf Henzler (Germany) on the shoulders of his achievement as a driver, tire development expert and ambassador of the sport. In the team's first full season of ALMS competition in 2010, the blue on teal No.17 scored a season's best of sixth, seventh here in Monterey. Now with the open wheel racing legend Derrick Walker overseeing the program, expectations have been high. Sellers has not disappointed capturing his first ALMS victory at the Mid-Ohio Sports Car Challenge in August. He added an impressive second win at the most recent race, the Baltimore Grand Prix, on September 3rd. With that kind of momentum, betting against Sellers taking a victory here at Mazda Raceway Laguna Seca would not be wise; after all, he has a lifetime of drive pushing him towards these six hours of racing.