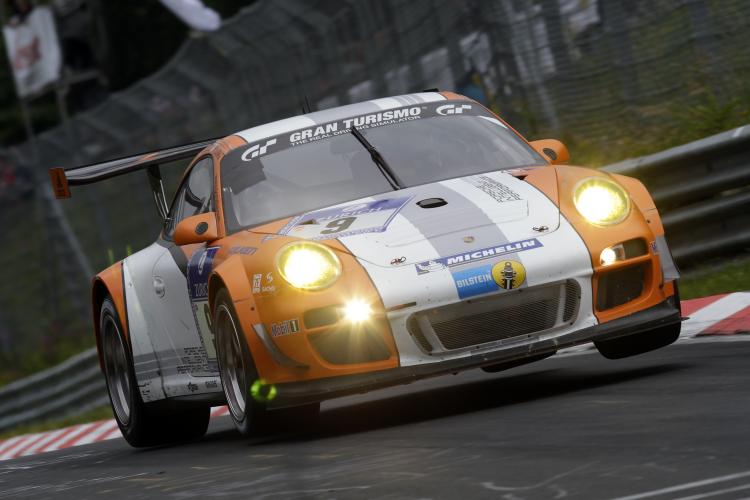 Porsche Motorsport of Stuttgart, Germany, today announced that its ground-breaking Porsche 911 GT3 R Hybrid Version 2.0 will make its racing debut on the West Coast on September 17 at Mazda Raceway Laguna Seca.
The outing of Porsche's hybrid racer at the 24 Hours of Nuerburgring last month was more than heartening. The innovative race car achieved the same quick lap times as its top rivals yet used considerably less fuel. Just two broken transmission flanges and a collision thwarted a potential podium spot. The next test under race conditions for the further development of the particularly efficient drive-train technology of the 911 GT3 R Hybrid 2.0 is now planned for the American Le Mans Series race at 2.23- mile course featuring the famous Corkscrew Turn. The vehicle is not eligible for championship points, as the hybrid technology is not yet a part of the GT regulations.
Two Porsche works pilots, Romain Dumas (France) and Richard Lietz (Austria) will share the cockpit of the orange and white racer from Weissach. Dumas has already driven the world's most innovative GT vehicle last year at the "Petit Le Mans", the ALMS race at the Road Atlanta circuit. Lietz piloted the Hybrid-911 at the 24 hour races on the Nuerburgring in 2010 and 2011 as well as at various other long distance races.
"I'm very much looking forward to demonstrate the capabilities of this very special car at race speed to the spectators in California. Many Porsche fans live on the west coast, and some of them have already discovered the advantages of the hybrid sys-tem at the wheel of a Porsche Cayenne S Hybrid," said Romain Dumas.
"I'm very excited, because Laguna Seca is one of the most challenging race tracks on earth. Its layout with a series of up and downhill passages should actually suit our 911 GT3 R Hybrid."
The Porsche 911 GT3 R Hybrid 2.0, with two 75 kilowatt electric motors on the front axle supplementing the 465 hp four-liter, six-cylinder power unit at the rear, particu-larly embodies the philosophy of "Porsche Intelligent Performance":
The electric energy is generated during braking and stored in an electric flywheel. During acceleration, this energy is automatically delivered to the front wheels, sup-porting the combustion engine. This leads to a reduction in fuel consumption and in-creases the cruising range on the circuit. Moreover, drivers can manually utilize the stored energy with a boost-paddle on the steering wheel for overtaking. The 911 GT3 R Hybrid has undergone further development since 2010, and compared to its pre-decessor, its weight was reduced from 1,350 kilograms (2970 lbs.) to 1,300 kilo-grams (2860 lbs.).