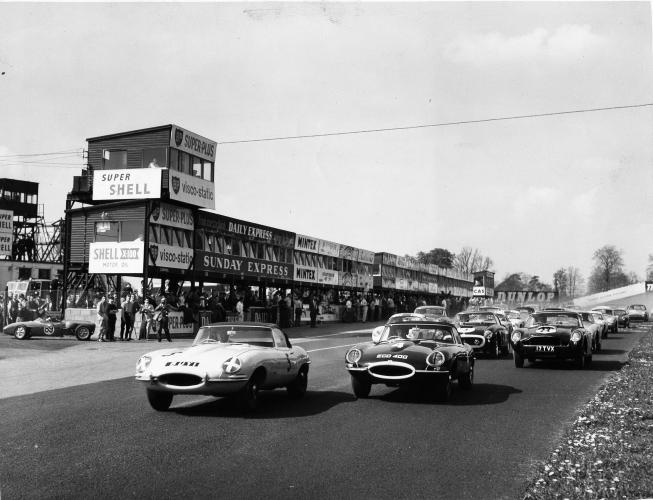 More than 550 extraordinary race cars will amass on August 19 – 21 to confront one of America's most challenging race courses: Mazda Raceway Laguna Seca in Monterey, Calif.  The 2.238 mile road course with its 11 turns and 300 foot elevation changes is as demanding for drivers as it is thrilling for spectators, who get a panoramic view of racing action from the grandstands and viewing fields. They also enjoy up-close encounters with legendary cars, their owners and drivers in the paddock and during special presentations throughout the three-day weekend, which anchors Monterey's legendary Classic Car Week.
Historic Racing — the Main Event
With Jaguar as this year's featured marque, the enriched fan experience at the Rolex Monterey Motorsports Reunion will include celebrating the 50th anniversary of the iconic Jaguar E-Type and watching a over a dozen of these extraordinary cars race on Saturday at 1:00 p.m., when Rolex Race Group 3A (for the Jaguar Invitation Class) gets underway.
The Jaguar E-Type (XKE in the USA), launched in 1961, was then, and still is, one of the most famous and desirable cars in the automotive industry, admired for artistic styling so pure that it has become a permanent exhibit at New York's Museum of Modern Art.  (Fittingly, the profound beauty and emotion of the E- Type's capabilities on the open road have been captured by renowned artist Bill Patterson in this year's poster art for the 2011 Rolex Monterey Motorsports Reunion.)
On Sunday at 2:45, Rolex Race Group 5B for 1947-1955 Sports Racing and GT Cars will feature nine Jaguar XK120s racing wheel-to-wheel with others in their class.  Also on Sunday, Jaguar C- and D-Types can be seen racing, respectively, in Groups 1B (1955-1961 Sports Racing Cars under 2000cc) at 1:00 and 3B (1955-1961 Sports Racing Cars over 2000cc) at 1:50.  It was these models that created most of the magic for Jaguar as the British car maker enjoyed tremendous success on race circuits around the world in the 1950s, perhaps most significantly winning at Le Mans in 1951 and 1953 with its C-Type and 1955 with its D- Type. (The Jaguar D-Type also won Le Mans in 1956 and 1957 in the hands of the Scottish privateer race team Ecurie Ecosse.)
While other can't-miss action includes races for Historic Grand Prix-Formula 1 (2:15 on Sunday), Can-Am (Sunday at 4:00 p.m.), and Trans-Am (Saturday at 4:25 p.m.), it just might be the Ferrari 250 GTOs that steal the most hearts during the Rolex Monterey Motorsports Reunion. While Ferrari is known for building exquisite, fast cars, many historic automobile aficionados feel the most beautiful Ferrari ever built was the Ferrari 250 GTO.  In total, 39 of these cars were built between 1962 and 1964, and on Saturday at 2:10 p.m., 15 of them will be screaming along Mazda Raceway Laguna Seca's famous paved road racing track.  In their day, the GTOs were unbeatable, and today their value is astronomical, with many of them able to fetch up to $30 million dollars at auction. For added enjoyment, all cars will be practicing and qualifying on Friday, giving fans a chance to see all 550 cars on track throughout the day.
Around the Edges
While the Rolex Monterey Motorsports Reunion is the sole event that brings the actual racing of historic automobiles to Classic Car Week, it also offers related off-track experiences that can keep a three-day ticket holder plenty busy during his or her visit to the Mazda Raceway Laguna Seca complex.
The centerpiece of the race paddock will be Jaguar's Heritage Display where the full history of Jaguar's illustrious motorsports program will be presented in a vibrant and information-packed interactive exhibit. Race fans can see how designers of today's Jaguars were highly influenced by the famous Jaguar C- and D-Types and inspect various special cars on display.
Nearby, at the Showcase Stage, classic car enthusiasts can listen to drivers and owners describe what it's like to get behind the wheel of some of the historic vehicles competing. The featured cars will drive up on the ramp where guests can clearly see them and learn more about the car's origin and what makes it truly special.
On Saturday, from 12:15 – 12:50 p.m., race fans will gather at the Center Lawn in the Yamaha Marketplace for a Picnic with Jaguar. They will hear the "untold" stories of Jaguar racing from some amazing special guests, including Bob Tullius, the driver who is synonymous with Jaguar racing in America. It's an outstanding opportunity to ask questions and meet the people who helped make Jaguar famous.
Other Special treats in the Yamaha Marketplace include showcases for vintage dragsters, courtesy of Kingdon Drags in Lodi, Calif., and for the Mothers Gold Class of hot rods and classic cars. At the British Isle, authentic English craftsmen will share their beers, fine tea and wares from several boutiques.