Plenty of Fan Interaction and Family Friendly Activities Fill Race Weekend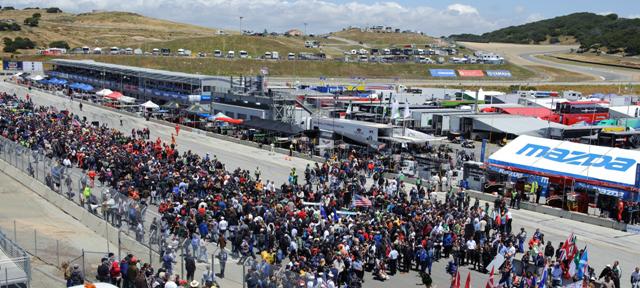 The American Le Mans Series returns to Mazda Raceway Laguna Seca for the ModSpace American Le Mans Monterey, Presented by Patrón, bringing with it plenty of entertaining and interactive fan activities.
The American Le Mans Series features multiple classes of high-tech sports cars competing together in each race – a dynamic which offers constant passing and on-track battles throughout. The six hour endurance race on Saturday September 17 takes competitors from daylight, to dusk and into the darkness, pushing drivers' and crews' mental and physical abilities.
When not captivated by the action on the track, spectators have plenty of interactive options each day.
Friday, September 16
Afternoon autograph sessions offer a chance to meet and receive autographs from the drivers of the Cooper Tires Prototype Lites (12:00-12:30 p.m.) and IMSA GT3 Cup Challenge by Yokohama (1:30-2:00 p.m.). Additionally, Tech Talks at team transporters provide detailed and entertaining chats with the drivers about their high-performance race cars. Fans can visit with Flying Lizard Racing from 12:30-1:00 p.m. and Dyson Racing from 1:10-1:35 p.m.
Saturday, September 17
Paddock fan activities begin Saturday morning from 11:00 a.m.-11:45 p.m. with an autograph session with all American Le Mans Series drivers and teams.  After which, Extreme Speed Motorsports will hold a live auction of team gear at their transporter from 12:30-12:45 p.m. All proceeds benefit the Austin Hatcher Foundation for Pediatric Cancer.
Two spectator favorites are on tap Saturday; the Fan Grid Walk at 12:35 p.m. which allows for the opportunity to walk the starting grid with the American Le Mans Series drivers and teams just minutes before the green flag and; the blast of fireworks at the conclusion of the six-hour endurance race.
Sunday, September 18
On Sunday from 11:30 a.m.-12:30 p.m. is the Pirelli World Challenge GT & GTS Autograph Session while paid spectators who have purchased a $50 ticket for the Fan Parade Lap have an opportunity to drive their own vehicle around the world famous Mazda Raceway Laguna Seca from 11:35-11:55 a.m.
Throughout the race weekend sponsors and partners such as Patron, Cadillac and Mothers showcase their products with interactive displays.  Additionally, there will be a myriad of retail, food, wine, beer vendors to choose from.
Mazda Raceway Laguna Seca is always a fun family environment with children 12 and under receiving free race admission and the Monterey County Youth Museum's Wheelie Mobilee offering free daily activities.