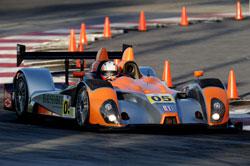 ALMS Le Mans Prototype Challenge class championship leaders
CORE autosport has secured sportscar veteran and former 24 Hours of Le Mans winner Andy Wallace for the next round of American Le Mans Series competition at Mazda Raceway Laguna Seca.
Wallace will join team owner Jon Bennett and young driver Frankie Montecalvo aboard the #05 Bayshore Recycling / Composite Resources ORECA FLM09 at the six-hour ModSpace American Le Mans Monterey presented by Patron on Saturday, September 17.
Wallace's history in sports car racing goes back decades, winning some of the most prestigious races in the world including the 24 Hours of Le Mans (overall: 1988, class wins: 2001, 2002, 2006), Rolex 24 at Daytona (overall: 1990, 1997, 1999; class win 2003), Mobil 1 12 Hours of Sebring (overall: 1992, 1993) and the Petit Le Mans (overall: 1999).
2010 marked Wallace's debut in the highly-competitive ALMS LMPC class, driving for Level 5 motorsports. He ran seven of nine rounds with the team and racked up three podium finishes (Sebring, Lime Rock and Road America) and finished seventh in the 2010 ALMS LMPC driver championship standings.
Wallace's history at Mazda Raceway Laguna Seca goes back to 1997 and he's had a love-hate relationship with the storied venue since then.  Highlights at the challenging track include two ALMS podium finishes in the top prototype class – a second in 2001 with the Champion Audi team and a third spot in 2005 with Dyson Racing.
Qualifying for the ModSpace American Le Mans Monterey presented by  Patron will be aired live on ESPN3.com on Friday, September 16 at 6:30 p.m. EST, with live race coverage on ESPN3.com on Saturday, September 17 at 4:15 p.m. EST.  ESPN2 will televise a tape-delayed highlight of the event on Sunday, September 18 at 1 p.m. EST.
International viewers can see the event live on MotorsTV, Rogers Sports Net, Fox Sports Middle East and Fox Latin America Networks. Live radio broadcasts are available at www.americanlemans.com.
Andy Wallace
"I have been watching CORE autosport compete this year and when I got an e-mail from Morgan [Brady, team manager] asking about my availability for the Laguna race I was honored I was on his list for drivers.
"I think the LMPC class is a great thing as it keeps costs down, but it's still a prototype, which is fantastic. The LMPC cars are designed to do a single job and there's no compromises like you have with GT cars.
"I find LMPC cars just as rewarding to drive as LMP1 cars. The brakes and handling are good, the gearbox takes a bit of learning and of course I want more power, but there's not a race driver that doesn't want that.
"CORE autosport has been doing extremely well and always is running at the front, and this race you always want to be out there in a good car – and you can't do much better in the LMPC class. I'm looking forward to being part of the team and I take my job seriously to bring a good result for them."