For Reservations please visit: www.chateaucoralini.com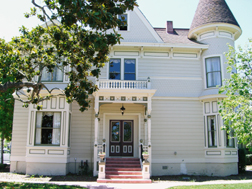 When only the best will do, Monterey Peninsula's newest luxury destination, Chateau Coralini Retreat & Spa offers guests the gated privacy & charm of a European mansion estate, two acres of exquisitely manicured gardens, resort day spa facilities, and breathtaking views of Steinbeck's revered Pastures of Heaven. Nestled within the River Road Wine Trail, just 10 minutes from Laguna Seca Raceway, guests will enjoy our comfortable and elegant suites, rejuvenating spa treatments, richly appointed meeting and event parlors, & a rustic vintage wine cellar banquet facility. This unique destination is a perfect setting for the discerning traveler, corporate retreat, or special event. The resort's unique location provides a beautiful private setting, historic importance, and luxury accommodations, putting this destination in a class of its own on the Central Coast. Exclusive group opportunities available.
Call for Special Mazda Raceway Laguna Seca Packages !
Chateau Coralini Retreat & Spa
100 River Road – Salinas, CA 93908
T. 831.455.2100 F. 831.455.2154
info@chateaucoralini.com
Contact:
Linda Persall, Proprietor
Linda@chateaucoralini.com