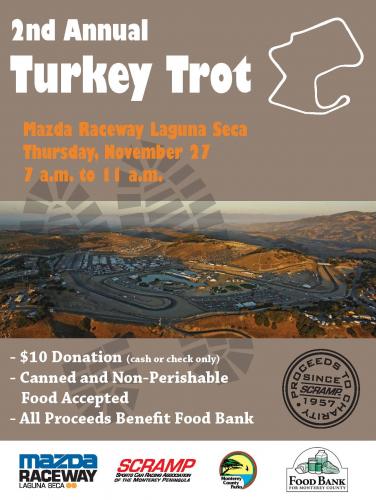 Before filling up on all the delicious Thanksgiving Day dishes and settling in to watch the football games, entire families can participate in a little morning exercise at the second annual Mazda Raceway Laguna Seca Turkey Trot to benefit the Food Bank for Monterey County. For only a $10 cash or check donation, visitors can enjoy a run, jog or walk on the 2.238-mile race circuit from 7 to 11 a.m. on Thursday, November 27.
Last year families visited to experience the race track in a way unlike any other. One runner who was visiting from Japan, remarked how different, and challenging, the track is from watching it on TV or "driving" it on Gran Turismo. "This is the highlight of my entire trip," he said as he smiled.
Canned and non-perishable food donations will also be accepted. All proceeds go to the Food Bank for Monterey County which is the area's largest provider of emergency supplemental food. The food bank collects, stores and redistributes food to individuals, as well as non-profit agencies that serve the aged, ill and needy.
"More than 100 people participated last year, and the feedback we received was amazing," said Gill Campbell, CEO/general manager of Mazda Raceway Laguna Seca. "Our staff and board members volunteer their time to put this event on, and we received such gratitude in return knowing that donations and food are being raised for a tremendous local organization."
For people interested in learning how to help or make a direct donation to the Food Bank for Monterey County, please visit its website here.