Record crowd celebrates 100th anniversary of BMW and much more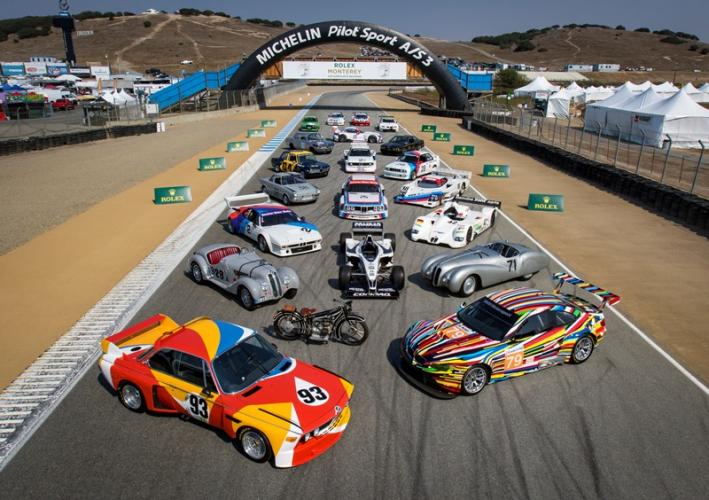 The 2016 Rolex Monterey Motorsports Reunion at Mazda Raceway Laguna Seca exceeded expectations once again as one of the premier anchor events of the annual Monterey Classic Car Week.
A record four-day total of 70,525 spectators joined in the incredible celebration of motorsports history at the raceway where so much of it has been made over the past 60 years. This is up nearly eight percent over 2015 attendance numbers. From featured marque BMW celebrating its 100th anniversary to the 50th anniversaries of Can-Am and Trans-Am, and from the 1911 National Speedway Roadster to the 2001 BMW M3 GTR, it was both the visual and auditory overload experience race fans have come to expect and appreciate during the Rolex Monterey Motorsports Reunion.
A 60-minute show of the event is scheduled to air Thursday, Sept. 22, at 9 p.m. PST on CBS Sports Network.
The 2017 Rolex Monterey Motorsports Reunion, to be held during Mazda Raceway Laguna Seca's year-long 60th anniversary celebration, has been set for Aug. 17-20. The featured marque will be announced in the coming months.
Sunday evening's award ceremony showcased the best of the best of the 550 authentic and period-correct race cars which competed throughout the weekend on the 11-turn, 2.238-mile iconic road course. The following is a list of the award recipients:
Best Paddock Display
Presented to the best paddock display representative of the era
Winner: Pre-War Alley
Stand 21 Award
Awarded to the Most Period Authentic look
Winner: Ed Archer (1915 Ford Model T in Group 1A)
Ken Miles Trophy
Presented for the representation of a vintage car under 1500cc
Winner:  Don Martine (1950 MGTD Von Nuemann Special driving in Group 1B)
Can-Am Spirit Award
Presented by Victory Lane Magazine to the competitor who showed the most persistence and performance all weekend long.
Winner: Johan Woerheide (1965 Lola T70 Mk II in Group 5A)
Henry Ford Trophy
Presented to the most significant Ford-powered entry
Winner:  Lynn Park (1963 Shelby Cobra 289 in Group 6B)
The John Fitch Corvette Excellence Award
Presented to the most significant Chevrolet Corvette
Winner:  Jeni Yeakel-Swanson (1964 Chevrolet Corvette in Group 6B)
The Phil Remington Award
Presented to the mechanic who demonstrates exceptional skill
Winner:  Terry Forland (BMW)
Bonhams Cup Awards
Presented to participants in the featured morning races that best exemplify the spirit of the event
Race 4A – Steve Walker (1973 BMW CSL)
Race 4B – Bill Kirkwood (1961 Elva Courier MkII)
Race 5B – Richard Dean (1985 Ford Mustang)
Race 7A – Brian Blain (1967 McLaren M6A)
The Chairman's Award
Presented to the entrant whose car has historical significance to Mazda Raceway Laguna Seca
Winner: Jeffrey Abramson (1959 Morgan Baby Doll in Group 3A)
The Founders Trophy
Presented to the person who richly personifies historic racing
Winner: Jim Alder (1952 Jaguar XK120 in Group 1B)
The Rolex Award for Excellence
Presented for Overall Excellence in each race category as determined by an independent panel of judges
Saturday Race Recipients:
Rolex Race 1A – Craig Barto driving a 1931 Bugatti Type 51
Rolex Race 2A – David Swig driving a 1958 Scarab MkI
Rolex Race 3A – Peter Smith driving a 1958 Austin Healey Sprite
Rolex Race 4A – Jean Bernard Bouvet driving a 1979 Chevrolet Corvette
Rolex Race 5A – Marc Devis driving a 1967 Lola T70
Rolex Race 6A – Tim de Silva driving a 1978 Osella BMW PA8
Rolex Race 7A – Emmett Murphy driving a 1972 McLaren M8F/P
Rolex Race 8A – Terry Lawlor driving a 1967 Shelby Mustang
Sunday Race Recipients
Rolex Race 1B – Kevin Adair driving a 1959 Austin Healey 3000S
Rolex Race 2B – Jacqulyn Mincheff driving a 1956 Lotus Eleven
Rolex Race 3B – Bob Earl driving a 1972 Ferrari 312PB
Rolex Race 4B – Craig Taylor driving a 1966 BMW 2002
Rolex Race 5B – Bill Ockerlund riving a 1991 Chevrolet Duracell Camaro
Rolex Race 6B – Sandra McNeil driving a 1963 Shelby Cobra 289
Rolex Race 7B – Greg Thornton driving a 1976 Lotus 77
The Spirit of Monterey Award
Presented to the driver or entrant who excels in the spirit of the weekend
Winner:  Jim Bartell for entering two incredible UOP Shadows