Elias takes Superpole in MotoAmerica Superbike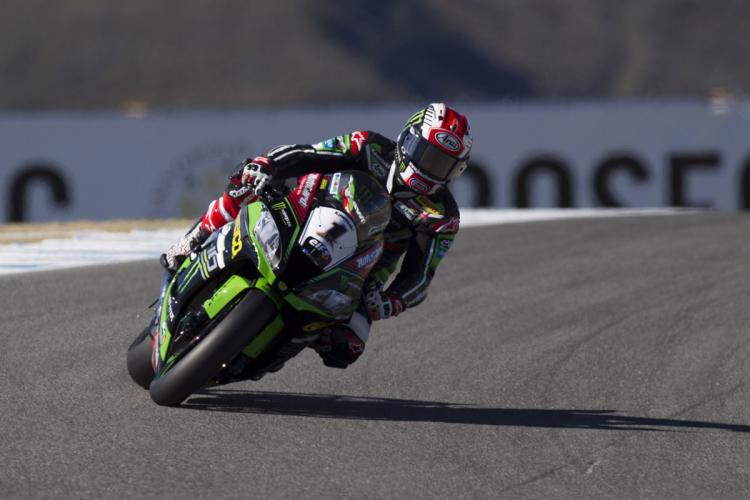 Jonathan Rea at full attack. Photo by Bob Heathcote
Current Superbike World Championship point leader and reigning champion Jonathan Rea swapped the lead back and forth with Kawasaki Racing Team teammate and Superpole 1 winner Tom Sykes before taking over for good with five laps remaining for his first WorldSBK victory at Mazda Raceway Laguna Seca. Rea beat his teammate to the finish line by 0.819-of-a-second. The victory came before thousands of enthusiastic fans who filled the paddock, hillsides and grandstands under sun-drenched California skies.
American Nicky Hayden, the 2006 MotoGP World Champion now in his first full season of WorldSBK, started sixth on the grid for his Honda World Superbike Team and battled hard for a third-place finish in his first race at Mazda Raceway since 2013.
Chaz Davies, who had the quickest lap of yesterday's practice sessions and won both Mazda Raceway races last season,  crashed  in Turn 6 while leading on Lap 5. The rider of the No. 7 Aruba.it Racing Ducati Panigale was uninjured but not able to continue and was the first rider to retire from the race.
World Superbike Championship Race 2, scheduled for 25 laps, is scheduled to go green on Sun., July 10, at 2:30 p.m.
++++
Toni Elias earned the MotoAmerica Superbike Superpole for the first of two MotoAmerica Honda Superbike Showdown of California races tomorrow. The Catalonia native wheeled his No. 24 Yoshimura Suzuki to a lap of 1:23.619 minutes. Cameron Beaubier was second on the No. 1 Monster Energy Graves Yamaha just 0.004-of-a-second back and Roger Hayden was third on the No. 95 Yoshimura Suzuki with a lap of 1:23.860.
Josh Herrin led the Superpole session for MotoAmerica Superstock 1000, pushing the No. 2 Wheels in Motion/Motorsports.com/Meen Yamaha to a lap of 1:26.415 minutes. Bobby Fong was second on the No. 50 Latus Motors Racing Kawasaki 0.042-of-a-second in arrears and Jake Lewis was third on the No. 85 M4 Suzuki with a lap of 1:26.589 minutes.
Race 1 for MotoAmerica Superbike/Superstock 1000 will be 23 laps and is scheduled to begin Sun., July 10, at 11:45 a.m.
++++
The top-five finishers in the MotoAmerica Superstock 600 Last Chance Qualifying race will fill the 25th through 29th positions on the grid for Sunday's 21-lap Supersport/Superstock 600 race. Jai Armstrong (No. 391 Zone 9 Racing Yamaha), Josh Fogle (No. 151 Sunline Energy MotoShop Suzuki), Mark Rhoades (No. 773 Rhoades Racing Kawasaki), Anne Roberts (No. 181 Ann Roberts Racing Yamaha) and Ryan Whitman (No. 242 MotoShop Yamaha) all transferred.
J.D. Beach will start his No. 1 Y.E.S. Graves Yamaha from pole based on his quick lap in qualifying of 1:26.810 minutes. He will line up on the front row next to teammate Garrett Gerloff on the No. 31 Y.E.S. Graves Yamaha and Valentin Debise on the No. 53 M4 Sportbike TrackGear.com Suzuki.
Cameron Gish led all Superstock 600 qualifiers with a lap of 1:31.173 minutes and will line up 18th on the grid on the No. 474 M4 Sportbike TrackGear.com Suzuki.  Sahar Zvik was second-in-class and will line up 21st on the No. 161 Kawi Krew Kawasaki and Danielle Diaz, third quickest in Superstock 600, will be 22nd on the grid. The 21-lap race is scheduled for Sun., July 10, at 9:30 a.m.
++++
Ashton Yates was in third place going into the final turn of the MotoAmerica RC Cup race but somehow managed to exit Turn 11 with the lead on his No. 120 Yates Racing KTM RC390 and went on to the victory by 0.046-of-a-second ahead of No. 969 Brandon Paasch and 0.265-of-a-second ahead of No. 516 Anthony Mazziotto III. It was the third victory of the season for the Eatonton, Ga., resident.
Paasch leads the MotoAmerica KTM RC390 point standings after 13 races with 266, with Mazziotto second with 247 and Yates third with 210.
Spectator gates open Sunday at 7 a.m. Call the Mazda Raceway Laguna Seca Ticket Office at 831.242.8200 for full details.