Corvette Heroes to Attend Reunion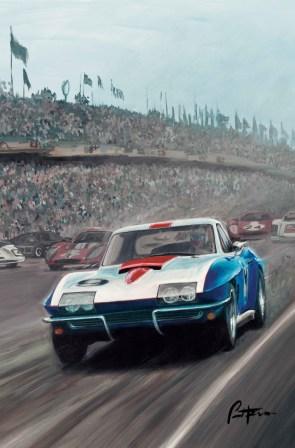 A name synonymous with racing, the Chevrolet Corvette will commemorate its 60th anniversary in style as the featured marque of this year's Rolex Monterey Motorsports Reunion at Mazda Raceway Laguna Seca, August 16-18. In celebration of the Corvette's storied history, Chevrolet has assembled a collection of rare Corvettes from nearly every year to create a special exhibition for visitors to enjoy.
Among those on display in this Corvette-only exhibition will be the iconic No. 9 car, which graces the event's poster, and famously raced in the 1967 24 Hours of Le Mans.
This piece of Corvette history will be joined by the two men who raced it nearly 50 years ago, Dick Guldstrand and Bob Bondurant. The red, white and blue Corvette grabbed the hearts of race fans and earned Guldstrand and Bondurant a spot in racing folklore after they drove the race car from the Paris airport all the way to Le Mans. While the No. 9 car was forced to retire during the race, its impressive performance in the 24 Hours of Le Mans catapulted Corvette to the top of international racing.
These two Corvette legends will sit alongside the car that helped make them icons on Saturday, August 17 from 1:30 p.m. – 2:30 p.m. Both Bondurant and Guldstrand will be available to greet guests, sign hero cards and posters at the Corvette Heritage display in the race paddock.
Nicknamed "Mr. Corvette," Guldstrand enjoyed a highly successful career behind the wheel of Chevrolet's famous sports cars. The winner of three consecutive Pacific coast championships, Guldstrand was inducted into the Corvette Hall of Fame in 1999 at the National Corvette Museum in Bowling Green, Kentucky.
No stranger to the podium, Bondurant won 30 of 32 races he entered between 1960 and 1963. He was named "Corvette Man of the Year" in 1959 and now owns the Bob Bondurant School of High Performance Racing near Phoenix, Arizona.
A high-speed race down memory lane, visitors to the Rolex Monterey Motorsports Reunion will witness historic car races from nearly every era. The 1967 Corvette will sit along side a group of other rare Corvettes, hand-selected by Chevrolet. This display will include: 1960 Cunningham Corvette, 1968 Owens Corning Corvette, 1989 Corvette Challenge, 2001 Corvette C5R, the Le Mans-winning 2011 Corvette C6R, and the Corvette family's newest member, the 2014 Corvette Stingray.