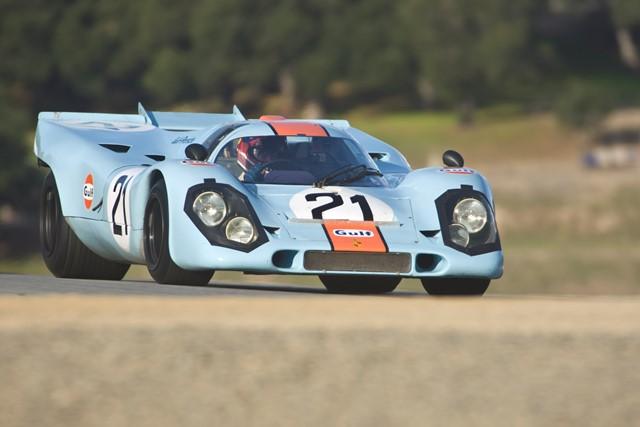 The world's largest gathering of Porsche race cars and drivers returns to Mazda Raceway Laguna Seca when Porsche Cars North America (PCNA) hosts Porsche Rennsport Reunion V, Sept. 25-27.
Porsche Rennsport Reunion V will be an assemblage of the widest variety of Porsche's most historic racing models, from the nimble 550 Spyder of the mid-1950s through the mighty 917 and 956/962 of the Seventies and Eighties to the highly successful RS Spyder of the last decade. Held about once every three years and last held in 2011 at Mazda Raceway, Porsche Rennsport Reunion is nirvana for not only Porsche enthusiasts, but everyone interested in motorsports and automobile history.
"The Monterey Peninsula is blessed to have the return of such a major manufacturer bringing tribute to their marque here at Mazda Raceway Laguna Seca," said Gill Campbell, CEO/General Manager of Mazda Raceway Laguna Seca. "There are going to be more Porsches on the Monterey Peninsula than anywhere else in the world and we welcome each and every one of them."
A total of 281 race cars classified into seven racing groups will navigate the technically demanding 11-turn, 2.238-mile road course that includes the iconic Corkscrew. In addition to the on-track activities, Porsche Rennsport Reunion V will also include 63 Porsches in the Chopard Heritage Display, 15 Porsches in the Legends of Le Mans garages, and more than 1,400 Porsches in 20 car corrals. That's nearly 1,800 Porsches either on the track or on display in one place at one time.
The seven race groups feature a wide variety of Porsche racers through the decades, and each entry is selected for its historical significance and period-correctness.
Click HERE for the full schedule of activities.
Spectator gates open each day at 7 a.m. Activities on the track, Porsche Park in the Paddock area and throughout the facility will include autograph sessions with legendary drivers, VIP laps, and an awards ceremony after Sunday's final checkered flag.
Tickets for Porsche Rennsport Reunion V include a variety of options, from single day tickets to multiple-day and hospitality packages.  For more information, click HERE or call 831-242-8200.