Director – Credentials & Registration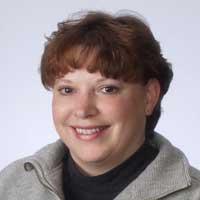 Bio: Owner of a medical billing company for 15 years. Medical office manager prior.
Hometown: Del Rey Oaks, Calif.
College: University of California, Davis
Favorite Racing Series: American Le Mans Series  Enjoy following F1, and my favorite event is the Rolex Monterey Motorsports Reunion.
Favorite Racer: Jensen Button
Favorite Sport Activities: I don't really do many sports. I used to snow ski and play tennis, but my knees won't let me do those activities any more.
First Time You Realized You Like Racing: Probably about a year after I started working with SCRAMP and got to know some of the racers and other people involved, which made it more interesting.
Favorite Book: n/a
Favorite movie: n/a
Favorite music: Americana
Hobbies: Watching my daughter dance, and I knit obsessively.
Something no one else knows about you: n/a