Technical Services Manager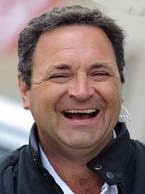 Bio: I have had so many careers in so many fields it is hard to list in this space but a few of my professions are here:
Night Club DJ
Radio Personality
Bungee Guide or "Jumpmaster"
Bungee Safety consultant
Professional Bungee Stunt Jumper
Web Designer
Web Programmer
ASP coder
Hardware & Software tester
Internet Broadcasting Technician
A/V Data Projectionist
Network Services Consultant
and many more
Hometown: Denton, Texas
College: NTSU & SDSU
Favorite Racing Series: I have several favorite series:
F1
MotoGP
American Le Mans Series
Grand AM
and of course School Bus Figure 8 racing
Favorite Racer: I can not choose just one
Favorite Sport Activities: ROV competitions
Biking
Used to do much more but my knee injury will not allow it any more.
First Time You Realized You Like Racing: When I was 6-7 years old my family went to a track in Oswego, NY and I loved watching that so much.
Favorite Book: Ringworld
Favorite movie: No favorite I just like Movies
Favorite music: Rock
Blues
R&B
80's
90's
Motown
Jazz
Hobbies: Internet Gaming
Poker
Stock Trading
Graphic design
3D Animation
Something no one else knows about you: I have been hired many times to dress up in the Mascot uniform for professional Sports teams and Perform a halftime show of Bungee Jumping.