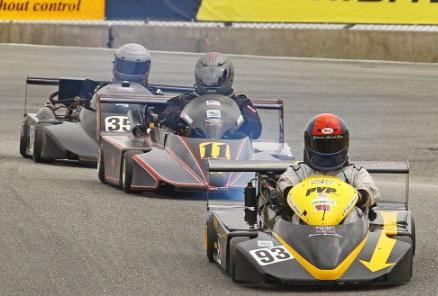 More than 35 of the world's best Superkart drivers from three continents descend on Mazda Raceway Laguna Seca July 8-9 to compete in the renowned "Corkscrew Internationals."
Held in conjunction with the Continental Tire Sports Car Festival, Powered by Mazda, the 2011 "Corkscrew Internationals" is hosted by the Northern California Karters (NCK) and features three competitive classes of karts vying for the coveted trophy. Typically the karts produce 90 horsepower and are capable of up to 160 miles per hour.
The newest class in superkarting is the Super IC/E with the favorite being Colorado's J.R. Osborne.
It is an intense competition in the F/E class where Australian Sam Zavaglia aims to defend his track record lap of 1:23.63 as he battles against former four-time motorcycle world champion, American Eddie Lawson and European champions Gavin Bennett and Malcom Crowe who intend to take the trophy home to England.
The largest class will be the single cylinder IC/E machines where Anthony Williams is a multiple winner. Challenging Williams will be bay area drivers John Stafford (Danville, Calif.) and Ryen Miller (San Jose, Calif.).
For more information on the 2011 "Corkscrew Internationals" log on to www.nckroadracing.com.
The Continental Tire Sports Car Festival, Powered by Mazda features the Grand-Am Rolex Sports Car Series, one of the most competitive professional road racing championships in North America. The series' Daytona Prototype (DP) class has attracted the attention of superstar drivers and universally recognized teams, in the process revolutionizing sports car racing with close-fought battles at the front of the field and close finishes.