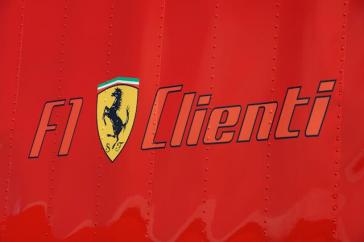 This past weekend, Sonoma's Infineon Raceway staged the second Ferrari Racing Days of the season, the first in North America, providing the perfect backdrop to a special event that saw over four hundred Ferrari owners take to the track. Providing further excitement were the Ferrari Challenge races and sessions for those entered in the F1 and XX programmes, who were able to drive their own cars, under the guidance of engineers from the Corse Clienti department and instructors, including the Scuderia's Marc Gene.
Sunday featured the final race of the Ferrari one-make series and the victory went to Harry Cheung. Driving the Ferrari of Beverley Hills 458 Challenge, he started from third on the grid and immediately went into the lead, which he kept to the chequered flag. Second was the winner of Race 1, Onofrio Triarsi, who in his Ferrari of Central Florida car, drove a great race, moving up the order from twelfth to second place, beating Richard Fant driving for Ferrari of Houston into third. Poleman Ryan Ockey (Ferrari of Ontario) took a well deserved win in the Coppa Shell, finishing fourth overall ahead of Jose Valera (Ferrari of Fort Lauderdale) and Robert Herjavec (Ferrari of Ontario.)
The next Corse Clienti event, another American Ferrari Racing Days, will take place at Mazda Raceway Laguna Seca, just a few kilometres from the attractions of Monterey, over the weekend of 20 May.
Courtesy of FerrariChallenge.com