A Winning Formula for Marketing Success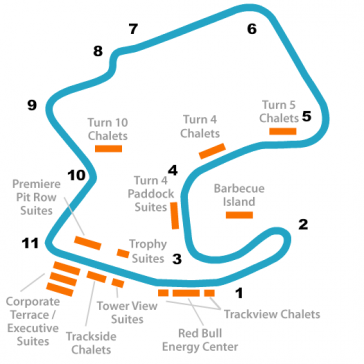 A full complement of marketing tools are available at all Mazda Raceway Laguna Seca events for companies looking to pull ahead of the competition. Fully integrated exposure components and custom tailored sponsorship packages can be designed to maximize corporate exposure and drive sales.
Track Exposure Opportunities
Mazda Raceway Laguna Seca can deliver your corporate message with a variety of cost effective and efficient promotional vehicles. Select any or all of the following opportunities to create an indispensable mark with both associates and consumers.
World-class racing, world-class marketing opportunities
Mazda Raceway Laguna Seca, a world-class racing facility located in one of the world's most desirable destinations, provides a unique marketing platform for your business.
Our location makes us part of the nation's fifth largest ADI which includes the San Jose and San Francisco metro areas, providing an excellent opportunity for major consumer and corporate customer promotions.
The events at Mazda Raceway Laguna Seca attract hundreds of thousands of spectators every year, thus offering direct exposure to a large and loyal audience.
The prestigious venue provides opportunities for consumers to explore and experience the products and services that may be purely a name in other forms of advertising. Brand loyalty is well known among racing fans and with the variety of events and demographics, your target market is certain to be in attendance.
Visibility of products and services can be achieved year around and at each event through various branding and on-site representation (e.g. track signage). Such visibility allows you to impact even customers not attending, as major events are televised on the SPEED Channel and other international networks.
Both the venue and activities are a prime setting for the entertainment of clients, guests and employees through corporate hospitality.
Marketing opportunities for small or large companies are diverse and may be tailored to fit both budget and marketing goals. Packages can be created to enhance product visibility, branding, team building and the overall objective of increasing the bottom line, all while being entertained by one of the most exciting sports in the world.